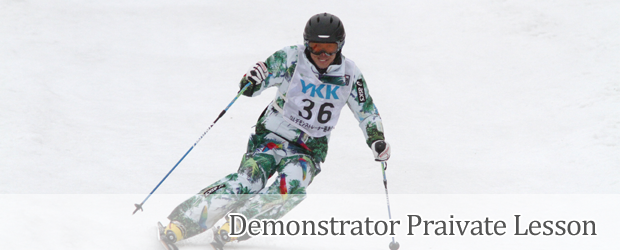 Furuya Masakazu the active ski school representative and the Active Demonstrator of Professional Ski Instructors Association Of Japan (SIA), will directly tell you. I will teach you the tips for exercise leading to progress.

Masakazu Furuya Biography
2018 SIA Alpine Ski Demonstrator Selection Second place
ISIA World Championship Japan national team(2009/Slovenia)
Inter Ski Japan national team(2019/Bulgaria)
LESSON DATE AND TIME

During the operating period of Moiwayama ski resort and the ski resort near Sapporo

The lesson period is from mid-November 2018 until the consecutive holiday of May 2019.
Please reserve by e-mail or telephone by 2 days before the lesson participation day.
LESSON PLACE

Sapporo Moiwayama ski resort and the ski resort near Sapporo

THE MEETING PLACE

Moiwa mountain ski slope within the southern slope lodge

LESSON PRICE

1 hour: 10,000 yen

Payment should be made at the reception on the day of lesson.
In addition to the lesson fee for lessons at the Moiwa mountain ski resort, we also pay the instructor's lift ticket fee.

Please purchase the lift ticket separately.

INSURANCE

At this ski school, we have insurance due to accidents and injuries in the ski slope, but there are also cases where compensation is not covered if there is a demand for damage on physical or material damage to a third party , We recommend that you join the individual liability compensation. Although we carefully consider safety safely at our school, we appreciate your understanding that it is not necessarily complete.